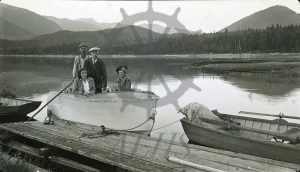 : 2017.020.171
:
:
: 1952--
: 1950s, Blue Flyer (boat), Buchholz; Frank, Evans; Vera (Langille), Galena Bay wharf (pre-1968), Langille; Bessie, Nelson; Walter Scott, and Upper Arrow Lake
:
1 b/w photograph (11.4 cm x 7.0 cm)
:
Group of people aboard Walter Nelson's boat Blue Flyer, Galena Bay wharf, Upper Arrow Lake, ca. 1952. TOP (l-r): Walter Nelson, Frank Buchholz. BOT: Vera Evans (nee Vera Langille), Bessie Langille. Inscription on rear: 'Walter in rear of group about to leave on his "Blue Flyer" speed boat with passengers for Arrowhead six miles across lake. Photo by John Nelson, sent 31 January 1953.
Purchase Print