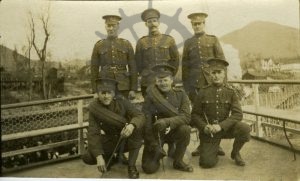 : 2017.019.9.38
:
:
: 1915--
: Bessie Vaughan and Nakusp & District Museum
: 1910s, 54th Kootenay Battalion, Bowes; Marvin, Canadian Pacific Railway station (Nakusp), Craft; George Jr., Grand Hotel, Gregory; Charles, Herridge; Herbert Wilfred 'Bert', hotel, Leland Hotel, Love; Chris, Moul; Alfred 'Alf' Sr., Rushton; Frank, SS Bonnington, sternwheelers, train station, Upper Arrow Lake, and World War I
: Nakusp
:
1 b/w photograph (6.7 cm x 3.9 cm)
:
Group portrait of soldiers from 54th Kootenay Battalion, Canadian Expeditionary Forces, aboard SS Bonnington, Upper Arrow Lake at Nakusp, World War I, 1915. TOP(l-r): Chris Love, George Craft (Alf Moul Sr.?), Marvin Bowes. BOT: Bert Herridge, Frank Rushton, Charlie Gregory. Leland Hotel and Grand Hotel in background at top right. Canadian Pacific Railway station at back centre.
Purchase Print