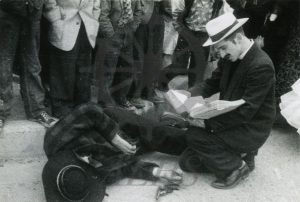 : 2017.018.44
:
:
: 1958-04-19
: 1950s, 1958 British Columbia centennial, Booth; Rev. Rodney, Broadway Street, and Hurry; Peter Jr.
: Nakusp
:
1 b/w photograph (11.7 cm x 7.9 cm)
:
Actors reenacting Old West bank robbery honouring British Columbia centennial in front of Broadway Cafe, Broadway Street, Nakusp, 19 April 1958. Peter Hurry Jr. playing victim on ground. Reverend Rodney Booth (United Church) playing the parson at right. Image by Willy Frick ('Picture Willy') and stamped 'Picture Willy, Hospital, Nakusp, B.C.'. Photo via Robert & Helen Roder.
Purchase Print