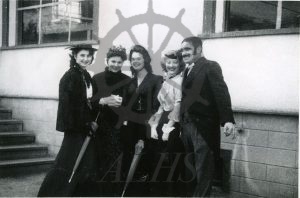 : 2017.018.14
:
:
: 1958-04-19
: 1950s, 1958 British Columbia centennial, Abbey; Barb (Williams), Broadway Street, Duncan; Dave, Kortzman; Marlene (Ferguson), Law; Trelawney, and Masonic Building (Nakusp)
: Nakusp
:
1 b/w photograph (12.0 cm x 8.1 cm)
:
Five actors pose in costume for Old West bank robbery reenactment honouring British Columbia centennial in front of Masonic Building, Broadway Street, Nakusp, 19 April 1958. L-R: Marlene Ferguson, Barb Williams, Lonie Law, ?, Dave Duncan. Image by Willy Frick ('Picture Willy') and stamped 'Picture Willy, Hospital, Nakusp, B.C.'. Photo via Robert & Helen Roder.
Purchase Print