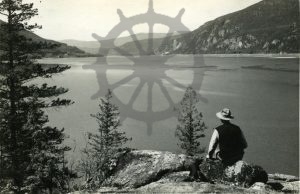 : 2017.007.1.56
:
:
: 1967-05-23
: 1960s, Caribou Point, Leu; Hans H., and rock outcrop
:
1 b/w photograph (14.8 cm x 10.0 cm)
:
Hans Leu sitting on rock outcrop, east side of Lower Arrow Lake looking across to Oatscott, 23 May 1967. Photo by Hans Leu, Burton. Top inscription on rear: 'Lower Arrow Lake, Indian Rock, 23.V.67'. Middle inscription on rear: '570. Lower Arrow Lakes looking across to Oatescott. (Hans Leu photo)'. Bottom inscription on rear: 'to go on page 9', referring to the 1982 book Whistle Stops Along the Columbia River Narrows.
Purchase Print