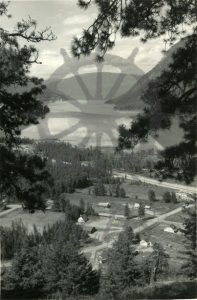 : 2017.007.1.29
:
:
: 1969-07-02
: 1960s, Burton Bluffs, Burton Cross Road, Burton Full Gospel Church, Burton Main Road, church, Highway 6, John McCormack Memorial Park, Lower Arrow Lake, and The Narrows
: Burton
:
1 b/w photograph (10.1 cm x 15.0 cm)
:
Bird's-eye view of centre of new Burton townsite above Lower Arrow Lake, 2 July 1969, as the lake fills to its new reservoir level following the completion of the Hugh Keenleyside Dam. New Highway 6 runs through centre. John McCormack Memorial park at bottom left next to Burton Full Gospel Church and Burton Community Hall. Intersction of Burton Cross Road and Burton Main Road to right of church. Photo by Hans Leu, Burton.
Purchase Print