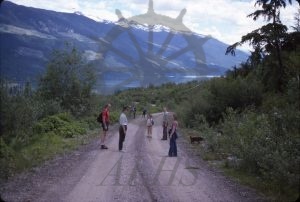 : 2017.003.5.23
:
:
: 1986-06-
: 1980s, Allsopp; David, dog, Freberg; Kristina, hiking/walking trail, Jestley; Chase, Kooistra; Jensine, Newmont Mine, school, Selkirk Mountains, Sumner; Georgia, Sumner; Matthew, Sumner; Owen, Taylor; Glen, Trout Lake, Trout Lake School, and Tucker (dog)
:
1 digital image (4308 x 2892 pixels)
:
Hikers on road, Trout Lake School year-end hike to Newmont Mine, Trout Lake, June 1986. FRONT (l-r): Glen Taylor, ?, Kristina Freberg, David Allsopp, Georgia Sumner. BACK: Matthew Sumner, Chase Kestley, Owen Sumner. Trout Lake in background.
Purchase Print