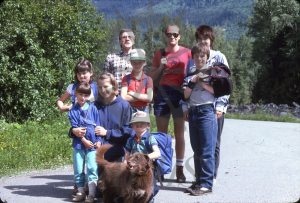 : 2017.003.5.16
:
:
: 1986-06-
: 1980s, Allsopp; David, Andrew Street, dog, Freberg; Kristina, Jestley; Chase, Kooistra; Jensine, Lardeau Street, school, Sumner; Georgia, Sumner; Matthew, Sumner; Owen, Taylor; Glen, Trout Lake School, and Tucker (dog)
:
1 digital image (4283 x 2894 pixels)
:
Hikers on road at beginning of Trout Lake School year-end hike to Newmont Mine, Trout Lake, June 1986. TOP: David Allsopp, Glen Taylor, ?. MID: Kristina Freberg, Matthew Sumner, Chase Jestley. BOT: Jensine Kooistra, Georgia Sumner, Owen Sumner with teacher Marilyn Taylor's dog Tucker.
Purchase Print