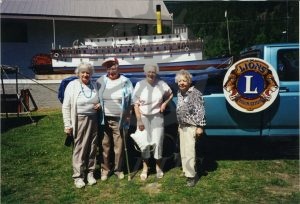 : 2016.038.5.6
:
:
: 1995-05-22
: 1990s, Armstrong; Violet (Marshall), Burton May Day, church, Edgewood Lions Club, Grimmett; Lily (Marshall; Robertson), Marshall; Athelia (Holford), model boats, parade, SS Minto (1991 replica), St. Andrew's United Church, sternwheelers, and Williams; Margaret (Marshall)
: Burton
:
1 digital image (4256 x 2893 pixels)
:
Marshall sisters posing in front of Edgewood Lions Club parade float carrying SS Minto replica, Burton May Day parade, St. Andrew's United Church, 22 May 1995. L-R: Lily Grimmett, Margaret Williams, Athelia Marshall (sister-in-law), Violet Armstrong. Photo by Lily Grimmett.
Purchase Print