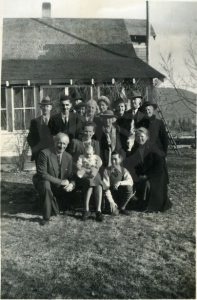 : 2016.038.5.124
:
:
: 1944--
: 1940s, Ashdown; 'Mom', christening, Claridge; Derek, Claridge; Hetty (Greenland), Claridge; W.J., Dawson; Ada, Evans; Peggy, Evans; Percy, Grimmett; Lily (Marshall; Robertson), Johnson; Albert, Johnson; Dolly, Johnson; Mary Ann, Marshall; Clark Sr., Marshall; Margaret (Hogg), Robertson; Baysil, and Robertson; Jim
: Burton
:
1 digital image (2556 x 3883 pixels)
:
Group gathered for christening of Jim Robertson of Burton, 1944. TOP(l-r): Albert Johnson, Baysil Robertson, Percy Evans, Peggy Evans, Ada Dawson, Dolly Johnson, Hetty Claridge, W.J. Claridge, Mary Ann Johnson. MID: Lily Robertson, 'Mom' Ashdown, Margaret Marshall. BOT: Clark Marshall Sr., Jim Robertson, Derek Claridge. Photo via estate of Lily Grimmett (Lily Robertson).
Purchase Print