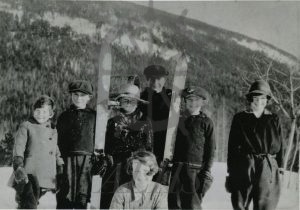 : 2016.038.5.103
:
:
: 1928--
: 1960s, Armstrong; Violet (Marshall), Blackwell; Florence (Marshall), Cumbrian Farm (Marshall farm), farms, Greenwood; John, Greenwood; Leonard, Grimmett; Lily (Marshall; Robertson), Marshall; Jim, skiing, and Williams; Margaret (Marshall)
: Burton
:
1 digital image (3968 x 2770 pixels)
:
Children posing with skis at Cumbrian Farm (Marshall family farm), Burton, 1928. TOP: Margaret Marshall (younger). MID(l-r): Lily Marshall, John Greenwood, Jim Marshall, Leonard Greenwood, Florence Marshall. BOT: Violet Marshall. Photo via estate of Lily Grimmett (Lily Marshall).
Purchase Print