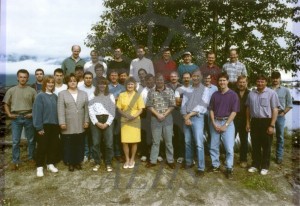 : 2016.030.30
:
:
: 1997-08-
: 1990s, Barlow; Les, Brotherston; Vince, Buchanan; Becky, Case; Ross, Chernoff; Elsie, de Wit; John, Demosky; Susan, Dupuis; Adrian, forestry, Hammond; Terry, Harris; Mike, Horning; Deane, Jackson; David, Jansen; David, Kew; David, Knecht; Crystal, Koftinoff; Tom, Land; Doug, Mackenzie; Randy, Moody; Bob, Nashlenas; Tom, Naydiuk; Ken, Orr; Robert, Palmer; Ron, Paul; Dan, Pope & Talbot, Rivers; Larry, Shelley; Chris, Soukeroff; Ken, Stratton; Len, Taylor; Ken, Webster; Mike, and Williams; Ken
: Nakusp
:
1 digital image (4627 x 3181 pixels)
:
Group photo of Pope & Talbot Arrow Lakes Timber employees, Nakusp, August 1997. TOP (l-r): Greg Naydiuk, Ken Williams, David Jackson, Robert Orr, Chris Shelley, Len Stratton, Mike Webster, David Kew. MID: Vince Brotherston, Bob Moody, Ken Soukeroff, Randy Mackenzie, Ron Palmer, John de Wit, Larry Rivers, Ross Case, Terry Hammond, Adrian Dupuis, David Jansen, Les Barlow, Mike Harris, Tom Nashlenas, Dan Paul, Tom Koftinoff. BOT: Becky Buchanan, Susan Demosky, Crystal Knecht, Elsie Chernoff, Ken Taylor, Doug Land, Deane Horning. MISSING: Cam Leitch, Cam Barlow.
Purchase Print