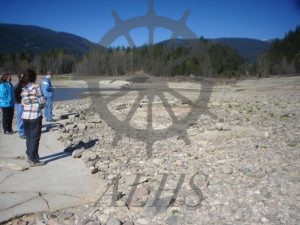 : 2016.030.10
:
:
: 2016-04-09
: 2010s, Curle; Debbie, Dump Beach, Edgewood Red Cross Outpost, hospital, Inonoaklin Creek, Kusch; Kyle, Lower Arrow Lake, Neidhardt; Bianca, Nesteroff; Greg, and Old Edgewood townsite (demolished)
: Edgewood
:
1 digital image (2304 x 1728 pixels)
:
Arrow Lakes Historical Society members viewing foundation of old Red Cross outpost hospital (originally Dr. Basil Church's house), old Edgewood townsite, 9 April 2016. The building was demolished in the late 1960s along with the rest of the original townsite when Edgewood was relocated across Inonoaklin Creek to make way for the flooding of the Arrow Lakes by the construction of the Hugh Keenleyside Dam. Mouth of Inonoaklin Creek at centre. New Edgewood townsite at far left behind trees. People (L-R): Debbie Curle, Kyle Kusch, Bianca Neidhardt, Greg Nesteroff.
Purchase Print