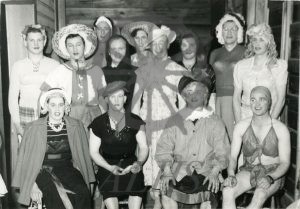 : 2016.028.17
:
:
: 1951--
: Nina Shaw (Estate of Margaret Shaw)
: 1950s, 409 Broadway Street W, Haire; Chris, Henke; Gordon, Highland; Ken, Hiltz; Harvard, Johnson; Dave, McPhee; Ralph, Nakusp & District Volunteer Fire Department, Opera House (Nakusp), Orr; Ed, Seward; Alfred, Shaw; Neil, and Wanstall; Charlie
: Nakusp
:
1 b/w photograph (18.0 cm x 12.6 cm)
:
Nakusp Volunteer Fire Department members dressed in drag. fundraiser for construction of new Nakusp arena, Opera House, Nakusp, 1951. TOP (l-r): Gordon Henke, Alf Seward, Ken Highland, Chris Haire, ?, Harvard Hiltz ?, ?, Dave Johnson. BOT: Ed Orr, Neil Shaw, Charlie Wanstall, Ralph McPhee.
Purchase Print