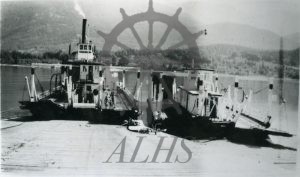 : 2016.013.9.46
:
:
: 1950-09-21
: Terryl Allen (Estate of Marvel Milne)
: 1950s, Castlegar Ferry, ferry, Highway 6, Lower Arrow Lake, SS Minto, and sternwheelers
: Needles
:
1 digital image (3448 x 2032 pixels)
:
Sternwheeler SS Minto (back left) and two car ferries, Needles ferry dock, Lower Arrow Lake, 21 September 1950. Caption: 'Sept 21, 1950 Minto made a special trip to Needles on Sunday, to take the newly re-conditioned Castlegar ferry to its new job. The change over was made during the day and the steamer returned to Nakusp with the old ferry. This ferry operated at Castlegar 1946- early 1950'.
Purchase Print