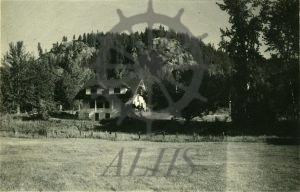 : 2016.013.8.3
:
:
: 1950-12-28
: Terryl Allen (Estate of Marvel Milne)
: Hughes Studio and Wilfrid Jowett
: 1950s, Cotswold Ranch (Edgewood), Edgewood Red Cross Outpost, hospital, Jowett; Wilfrid, Littlewood; Jerry, and postcard
: Edgewood
:
1 digital image (2976 x 1908 pixels)
:
Postcard from Wilfrid Jowett (of Sherwood, the Jowett family homestead south of Applegrove and opposite Edgewood on Lower Arrow Lake) sent to his nephew Jerry Littlewood (of Brentwood Bay, formerly of Edgewood) and wife, 28 December 1950. Postcard shows Red Cross Outpost Hospital (former Cotswold Ranch) at Edgewood. Inscription on rear: 'Edgewood BC, Dec 28, 1950. Glad to get your Kind Christmas good wishes & wish you both a Happy New Year. – along with this reminder of your old home here, WD Jowett.' Postcard given to Marvel Milne by Pete Littlewood.
Purchase Print