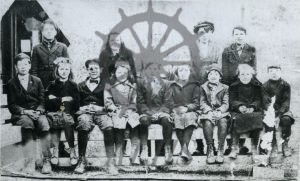 : 2016.013.7.34
:
:
: 1920-- - 1925--
: Terryl Allen (Estate of Marvel Milne)
: 1920s, Cooper; Jessie (Watson), Edgewood School, Ennest; Bill, Ennest; Frank, Forslund; Frieda, Hunt; Molly (Simcock), Jordan; Albert, Jordan; Cecil 'Tad', Jordan; Ron, MacLeod; Miriam (Jordan; Cassidy), McLeod; Jack, Murphy; Winnie (Jordan), school, Simcock; Sidney (younger), and Wurzburg; Frances (Simcock)
: Edgewood
:
1 digital image (3529 x 2123 pixels)
:
School class, Edgewood School, early 1920s. TOP(l-r): Ron Jordan, Miriam Jordan, Frieda Forslund (teacher), ?, Albert Jordan. BOT: Frank Ennest, Jessie Watson, Bill Ennest, Winnie Jordan, Tad Jordan, Frances Simcock, Sidney Simcock, Molly Simcock, Jack McLeod.
Purchase Print