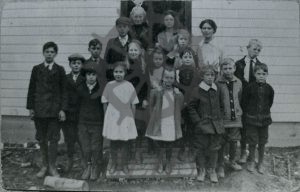 : 2016.013.7.33
:
:
: 1910-- - 1919--
: Terryl Allen (Estate of Marvel Milne)
: 1910s, Anderson; Belle (McLeod; Nesbitt), Blakeman; Irene (younger), Edgewood School, Forslund; Frieda, Forslund; Oscar, Gibson; Annie (deGans), Hakeman; Grace (Jordan), Hansen; Jennie, Jordan; George (younger), Matatall; Margaret (Rollins), Murton; Henry Jr., school, and Warner; Willie
: Edgewood
:
1 digital image (3453 x 2211 pixels)
:
School class, Edgewood School, 1910s. TOP(l-r): Frieda Forslund, Grace Jordan. 2ND MID: Henry Murton, Irene Blakeman, Jennie Hansen (teacher). 2ND BOT: George Jordan, Annie deGans, ?, Willie Warner, Oscar Forslund. BOT: ?, ?, ?, Belle McLeod, Girlie Rollins (Margaret Rollins), Fritz Jordan, ?, ?.
Purchase Print