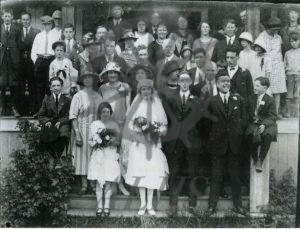 : 2016.013.7.15
:
:
: 1925--
: Terryl Allen (Estate of Marvel Milne)
: 1920s, deGans; Leendert Johannes 'Joe', deGans; Minnie (Aalten), Donselaar; Wilhelmina (Aalten), Ford; Claire (Pearson), Harington; Col. Hastings, Kelso; Madeline (Eselmont), Kelso; Minnie, Murton; Henry Jr., Nesbitt; Bessie, Nesbitt; Charles, Nesbitt; Fred Jr., Nesbitt; Harry, Nesbitt; John, Nesbitt; Margaret (Leighton), Nesbitt; Victor Orley 'Spike', Nesbitt; Wilfred 'Wig', Shipmaker; Janet 'Janie', Simcock (Rollins); Marvel, wedding, Yeld; Dr. Reginald, and Yeld; Muriel (Hart)
: Edgewood
:
1 digital image (3273 x 2491 pixels)
:
Wedding party, Margie Leighton-Charlie Nesbitt wedding, Edgewood, 1925. BOT(l-r): Madeline Kelso, Margie Nesbitt (nee Margie Leighton), Charlie Nesbitt, Henry Murton Jr., Spike Nesbitt (Orley Nesbitt). 2ND BOT: Wilfred Nesbitt, Claire Ford, Marvel Simcock, Minnie Kelso, Bessie Nesbitt, Fred Nesbitt. MID: ?, Muriel Yeld, Dr. Reginald Yeld, ?, Col. Hastings Harington, John Nesbitt, Harry Nesbitt. TOP RIGHT (only four of the last five in row before edge of stairs identified): Wilhelmina Donselaar, Joe deGans, Minnie deGans, Janet Shipmaker, ?.
Purchase Print