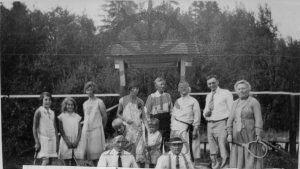 : 2016.013.7.1
: E17-16
:
: 1927-- - 1932--
: Adeline Jackson and Terryl Allen (Estate of Marvel Milne)
: 1920s, Jones; Kathleen 'Kay' (Jowett; Cooper), Jowett; Bernard, Jowett; Isabel, Jowett; Margaret 'Maggie' (Littlewood), Jowett; Walter Cyril, Jowett; Wilfrid Deiniol, Littlewood; Elizabeth, Littlewood; Frank, Littlewood; Jerry, Littlewood; Leonard, Littlewood; Marjorie (Church), Littlewood; Peter, and tennis
: Edgewood
:
1 digital image (3509 x 1978 pixels); 1 b/w negative (35 mm)
:
Group posing with tennis rackets, Littlewood home, Edgewood, ca. late 1920s-early 1930s. TOP (l-r): Kathleen Jowett, Betty Jowett, Maggie Jowett, Peter Jowett, Marjorie Jowett, Jerry Jowett, Leonard Littlewood, Elizabeth Littlewood, Bernard Jowett, Isabel Jowett. BOT: Wilfrid Jowett, Oswald Jowett.
Purchase Print