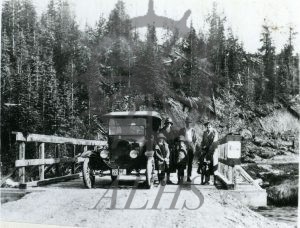 : 2016.013.5.52
:
:
: 1926--
: Terryl Allen (Estate of Marvel Milne)
: 1920s, automobiles, bridge, Highway 6, Johnstone; Eileen, Johnstone; Joyce, Johnstone; Mary (Murton), Kettle River, Kettle River Bridge (original), Lewtas; Margaret, Lewtas; William Edwyn 'Bill', and Milne; Marvel (Lewtas)
:
1 digital image (2780 x 2115 pixels)
:
Group from Edgewood posing with automobile on Kettle River Bridge, old Edgewood-Vernon highway (now part of Keefer Lake Road), 1926. TOP(l-r): Mary Johnstone (nee Mary Murton), Bill Lewtas, Margaret Lewtas. BOT: Joyce Johnstone, Eileen Johnstone, Marvel Lewtas.
Purchase Print