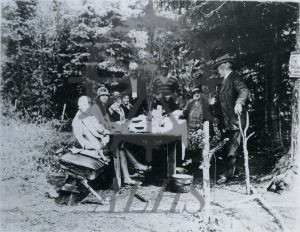 : 2016.013.5.27
:
:
: 1925-09-
: Terryl Allen (Estate of Marvel Milne)
: 1920s, Cowell; Patsy, Highway 6, Johnstone; Eileen, Johnstone; Joyce, Johnstone; Mary (Murton), Monashee Highway opening (1925), Monashee Pass, picnic, Williams; Alfred, Williams; Jane, Williams; William, Wright; Capt. Walter, and Wright; Rose (Williams)
:
1 digital image (2682 x 2071 pixels)
:
Group from Edgewood having tea on roadside near Kettle River Bridge to commemorate opening of highway between Edgewood and Vernon (future Highway 6), September 1925. L-R: Rose Wright, Mary Johnstone, Eileen Johnstone, Patsy Cowell, Joyce Johnstone, Walter Wright, Alfred Williams, Jane Williams, William Williams.
Purchase Print