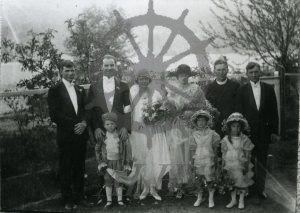 : 2016.013.4.26
:
:
: 1923-05-14
: Terryl Allen (Estate of Marvel Milne)
: 1920s, Anderson; Marguerite (Watson), Hakeman; Grace (Jordan), Jones; Kathleen 'Kay' (Jowett; Cooper), Jordan; Fritz, Jordan; Lloyd, Jowett; Eleanor (Murton), Lower Arrow Lake, Messenger-Hakeman; William George 'James', Turner; Rev., wedding, and Williams; Bill
: Edgewood
:
1 digital image (3174 x 2251 pixels)
:
Wedding party, Grace Jordan-James Hakeman wedding, 14 May 1923, Edgewood. TOP (l-r): Bill Williams, James Hakeman, Grace Hakeman (Grace Jordan), Eleanor Murton, Reverend Turner, Fritz Jordan. BOT: Lloyd Jordan, Marguerite Watson, Kathleen Jowett. Edgewood wharf and Lower Arrow Lake in background.
Purchase Print