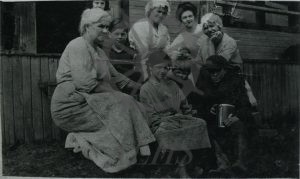 : 2016.013.10.77
:
:
: 1920-- - 1929--
: Terryl Allen (Estate of Marvel Milne)
: 1920s, Hakeman; Grace (Jordan), Jordan-Williams; Blanche, Jordan; Cecil 'Tad', Jordan; Lloyd, Jordan; Ron, MacLeod; Miriam (Jordan; Cassidy), Williams; Jane, and Wright; Rose (Williams)
: Edgewood
:
1 digital image (3258 x 1940 pixels)
:
Jordan-Williams family of Nakusp and Edgewood pose in front of their home, Inonoaklin Valley north of Edgewood, 1920s. Unidentified girl obscured at top. TOP(l-r): Jane Williams, Tad Jordan, Blanche Jordan-Williams, Grace Jordan, Rose Williams. BOT: Miriam Jordan, Lloyd Jordan, Ron Jordan.
Purchase Print