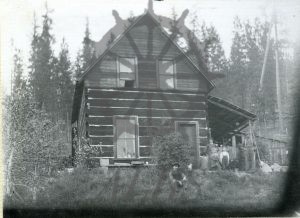 : 2016.013.10.74
:
:
: 1916--
: Terryl Allen (Estate of Marvel Milne)
: 1910s, Flick; Edith (Old), Oakdene (Old family farm), Old; Emily (Kirby), Old; Frank, and Old; Harold
: Edgewood
:
1 digital image (3778 x 2742 pixels)
:
Old family posing in front of Harry Old and Emily Old home, north end of Inonoaklin Valley between Needles and Edgewood, 1916. Notes from Marvel Milne: 'Land now owned by Jones [1970s] – has new home built by A. Flick [Art Flick, the Olds' grandnephew] on the old site. Uncle and aunt of E. Flick [Art's mother Edith Flick, who was raised by Harry and Emily].' L-R: ? (foreground), Emily Old, Edith Old, Frank Old, Harry Old.
Purchase Print