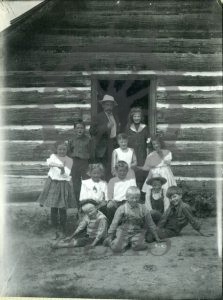 : 2016.013.10.3
: E17-10
:
: 1911-- - 1912--
: Adeline Jackson and Terryl Allen (Estate of Marvel Milne)
: 1910s, Cooper; Jessie (Watson), Ennest; Bill, Ennest; Ernie, Forslund; Oscar, Hopp; Bill, Inonoaklin Valley School (original), Jowett; Wilfrid Deiniol, MacLeod; Miriam (Jordan; Cassidy), school, Warner; Georgina, Warner; John, Warner; May, Watson; Albert, and Wurzburg; Frances (Simcock)
: Edgewood
:
1 digital image (2755 x 3733 pixels); 1 b/w negative (35 mm)
:
Class portrait at entrance, Inonoaklin Valley School north of Edgewood, 1911-12. This building is now on the Gary Wood property (1970s-fl. 2016) TOP(l-r): Wilfrid Jowett (teacher), Miriam Jordan. 2ND: Bill Ennest, Frances Simcock, Jessie Watson. 3RD: May Warner, Georgina Warner, Albert Watson?, Ern Ennest. BOT: Bill Hopp, Fred or Oscar Forslund, John Warner.
Purchase Print