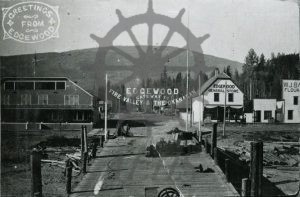 : 2016.013.1.9
:
:
: 1912-- - 1914--
: Terryl Allen (Estate of Marvel Milne)
: 1910s, Arrow Lakes Hotel, Edgewood General Store, Edgewood wharf (original), hotel, Inonoaklin Valley Road, Lake Drive, Lower Arrow Lake, postcard, store, and W.J. Banting General Store
: Edgewood
:
1 digital image (2665 x 1752 pixels)
:
Postcard of view looking down wharf and Inonoaklin Valley Road at Edgewood, 1912-1914. Lake Drive runs through photo above wharf. Arrow Lakes Hotel at left. W.J. Banting's new Edgewood General Store to right of Inonoaklin Valley Road and 'Edgewood - Gateway to Fire Valley & the Okanagan' sign. Real estate office to right of general store. Banting's original store at right.
Purchase Print