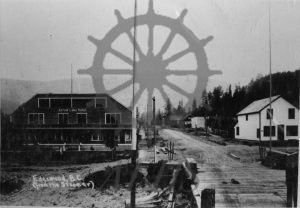 : 2016.013.1.23
:
:
: 1920--
: Terryl Allen (Estate of Marvel Milne)
: 1920s, Arrow Lakes Hotel, Edgewood General Store, Edgewood wharf (original), hotel, Inonoaklin Valley Road, Lake Drive, and store
: Edgewood
:
1 digital image (2622 x 1816 pixels)
:
Downtown Edgewood as seen from unidentified sternwheeler (either Bonnington or Minto) docked at wharf on Lower Arrow Lake, 1920. Wharf at bottom right. Arrow Lakes Hotel at left. Inonoaklin Valley road runs up centre of photo from centre with new World War I memorial cenotaph at top end of block. Caption: 'Edgewood, B.C. – 1920, after building of W.W. I memorial & planting of trees'.
Purchase Print