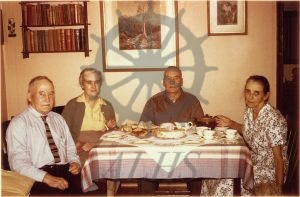 : 2016.005.384
:
:
: 1955-- - 1965--
: Annette Devlin and Estate of Wilfrid Jowett
: Jowett; Eleanor (Murton), Jowett; Walter Cyril, Jowett; Wilfrid Deiniol, and Nesbitt; Margaret (Leighton)
:
1 colour digital photograph (4078 pixels x 2680 pixels)
:
Wilfrid Jowett (left) of Edgewood and Margaret Nesbitt (second left, wife of Charlie Nesbitt, formerly of Revelstoke) of Revelstoke seated with Walter Jowett (second right) and Eleanor Jowett (right), dining table, Walter & Eleanor's home on Douglas Street in Revelstoke, ca. late 1950s-early 1960s. Walter returned to Edgewood in 1971 following Eleanor's passing in 1965; the Nesbitts returned to Edgewood in 1983.
Purchase Print