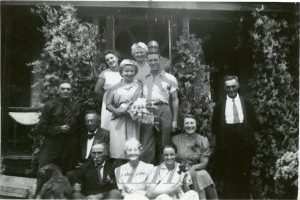 : 2016.005.353
:
:
: 1946--
: Annette Devlin and Estate of Adeline Jackson
: 1940s, Beeston Lodge (O'Reilly/Jowett home), Boothby; Hilda (Jowett), Cameron; Archie, Cameron; Maud, Hartland; Dorothy 'Dot' (Kent), Hartland; George, Jackson; Adeline (Boothby), Jackson; Frank, Jowett; Bernard, Jowett; Eleanor (Murton), Jowett; Wilfrid Deiniol, Murton; Ella, Murton; Henry Jr., and wedding
: Applegrove and Edgewood
:
1 b/w digital photograph (3775 pixels x 2520 pixels)
:
Group portrait, wedding of George Hartland of Edgewood to Dorothy Kent of England, Beeston Lodge (Walter Jowett & Eleanor Jowett home) across Lower Arrow Lake from Edgewood, 1946. TOP (l-r): Adeline Boothby, Ella Murton, Henry Murton. MID: Bernard Jowett, Archie Cameron, Dot Hartland (Dorothy Kent), Maud Cameron, George Hartland, Frank Jackson. BOT: Wilfrid Jowett, Hilda Boothby, Eleanor Jowett.
Purchase Print