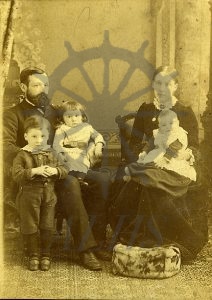 : 2016.005.352
:
:
: 1885-- - 1886--
: Annette Devlin and Estate of Wilfrid Jowett
: 1880s, Boothby; Hilda (Jowett), Jowett; Isabel, Jowett; Oswald, Jowett; Wilfrid Deiniol, and Jowett; William Austin
:
1 b/w digital photograph (2809 pixels x 3892 pixels)
:
Studio portrait, Jowett family, American Art Gallery, 5741 Main Street, Winnipeg, Manitoba, 1885-1886. TOP (l-r): William Jowett, Isabel Jowett. BOT: Wilfrid Jowett, Hilda Jowett, Oswald Jowett. The Jowetts moved to Sherwood south of Applegrove/across from Edgewood at the end of the 1900s.
Purchase Print