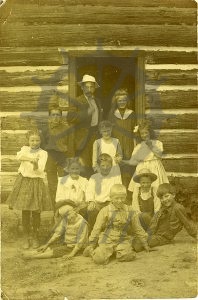 : 2016.005.351
:
:
: 1911-06-
: Annette Devlin and Estate of Wilfrid Jowett
: 1910s, Cooper; Jessie (Watson), Ennest; Bill, Ennest; Ernie, Forslund; Freddie, Forslund; Oscar, Hopp; Bill, Inonoaklin Valley School (original), Jowett; Wilfrid Deiniol, MacLeod; Miriam (Jordan; Cassidy), school, Warner; Georgina, Warner; John, Warner; May, and Watson; Albert
: Edgewood
:
1 b/w digital photograph (2750 pixels x 4153 pixels)
:
Postcard, class portrait at school entrance, Fire Valley School north of Edgewood, June 1911. TOP(l-r): Bill Ennest, Wilfrid Jowett (teacher), Miriam Jordan. MID: May Warner, Jessie Watson, Georgina Warner, Albert Watson?. BOT: Bill Hopp, Fred Forslund or Oscar Forslund, John Warner, Ernie Ennest. Photo by student Francis Simcock.
Purchase Print