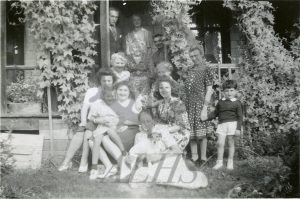 : 2016.005.348
:
:
: 1940-- - 1945--
: Annette Devlin and Estate of Wilfrid Jowett
: 1940s, Blakeman; Nina, Boothby; Hilda (Jowett), Hartland; Gertie, Hartland; Rachel, Jackson; Adeline (Boothby), Jowett; Bernard, Jowett; Eleanor (Murton), Jowett; Isabel, Jowett; Wilfrid Deiniol, Murton; Ella, Smith; Monte, Smith; Queenie, and Smith; Shirley
: Edgewood
:
1 b/w digital photograph (3845 pixels x 2552 pixels)
:
Group portrait of Edgewood residents, ca. early 1940s. TOP (l-r): Wilfrid Jowett, Nina Blakeman, Bernard Jowett. 2ND TOP: Isabel Jowett, Ella Murton, Hilda Boothby, Queenie Smith, Monte Smith. 2ND BOT: Gertie Hartland, Shirley Smith, Adeline Boothby, Rachel Hartland. BOT: Eleanor Jowett.
Purchase Print