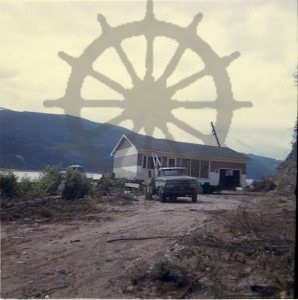 : 2016.005.255
:
:
: 1967-06-10
: Annette Devlin and Brian Hopp
: 1960s, Arrow Lakes flooding (Columbia River Treaty), automobiles, building relocation, Hopp; Bert, Hopp; Cornelia 'Corrie' (deGans), Hopp; Doris (Keffer), Hopp; Hank, and Lower Arrow Lake
: Edgewood
:
1 colour digital photograph (3597 pixels x 3617 pixels)
:
Hank Hopp & Corrie Hopp arriving by barge from original Edgewood townsite at west side of Inonoaklin Creek, 10 June 1967. The house was moved to the Hopp family farm in the Inonoaklin Valley north of Edgewood in advance of the Edgewood townsite's flooding by the construction of Arrow Dam the following year. Bert Hopp and Doris Hopp moved into the house in autumn 1968.
Purchase Print