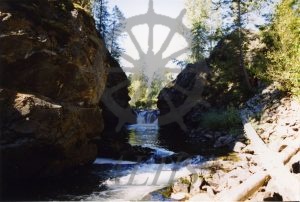 : 2016.003.77
:
:
: 1995--
: 1990s, forestry, Inonoaklin Creek, Lindsley Bros., Lindsley Bros. log flume tunnel, log flume, tunnel, Upper Inonoaklin Falls, and waterfall
: Edgewood
:
1 colour photograph (15.1 cm x 10.2 cm)
:
Inonoaklin Falls, Inonoaklin Creek, Edgewood, 1995. Upper Inonoaklin Falls at top, Lower Inonoaklin Falls at bottom. Old tunnel drilled for Lindsley Bros. log flume in 1921 to bypass falls on hillside at top right. At high water, the space between the falls forms a small bathing hole reached by small staircase (obscured) next to tunnel.
Purchase Print