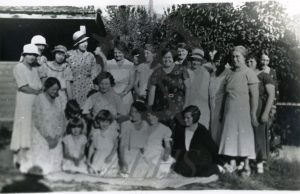 : 2016.003.26
:
:
: 1920-- - 1929--
: 1920s, Bowes; Annie, Hamer; Ruhama 'Rhuie'/'Ruhie', Harvey-Smith; Selma (Henke), Hopp; Ida (Funcke; Giraud), Hurry; Edith (Dilley), Jordan; Ella (Nordstrom; Buerge), Lodge; Amy (Beckett), Mayoh; Lucy May (Bourne), McWhirter; Elizabeth (McDowall), Morrow; Margaret (Salstrom), Oxenham; Mildred (LaRue), Salstrom; Clara, Salstrom; Rose (Hamling), Sanderson; Rika (Funcke), Turner; Elizabeth, and Wright; Rose (Williams)
: Nakusp
:
1 b/w photograph (25.2 cm x 19.1 cm)
:
Large group of women at Nakusp, ca. 1920s. TOP (l-r): ?, ?, Rose Salstrom, Rose Wright, ?, Mrs. Miller, Lucy Mayoh, Ida Giraud, Annie Bowes, Amy Lodge, Elizabeth McWhirter, ?, ? Butlin, Elizabeth Turner, Ella Buerge, ?. BOT: Rhuie Hamer, Margaret Salstrom, Clara Salstrom, Rika Funcke, Mildred LaRue, Edith Dilley, Selma Harvey-Smith.
Purchase Print