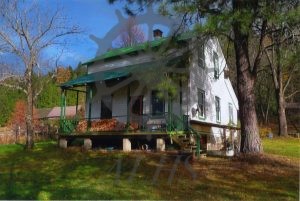 : 2015.028.258
:
:
: 2015-11-
: 2010s and Skribe/Orcutt/Bumpus farm (Fauquier)
: Fauquier
:
1 digital image (3594 x 2407 pixels)
:
West side of Ruth Bumpus (formerly Ruth Orcutt) house south of Fauquier, November 2015. This is the original Funk family home that was moved by the Orcutt family to their adjacent property in June 1969 in advance of flooding created by the Hugh Keenleyside Dam. Formerly the August Skribe property, it had been sold to the Orcutt & Norvel families in December 1950. The porches and roof have been replaced since the relocation.
Purchase Print