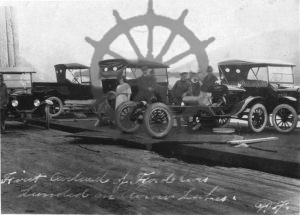 : 2015.028.228
:
:
: 1920-- - 1929--
: 1920s, automobiles, Buerge; Reuben, ferry, Ford Model T, Jordan; Ella (Buerge), Lower Arrow Lake, Needles wharf, and Needles-Fauquier Ferry
: Needles
:
1 digital image (3758 x 2694 pixels)
:
Ella Buerge (centre) and Reuben Buerge (holding son, centre) and others pose with Mr. Buerge's fleet of Ford Model Ts, Needles wharf, Lower Arrow Lake, 1920s. Notes: 'Mr. Reuben Buerge selling Model Ts on the Needles wharf in the 1920s. They arrived in pieces in a box and had to be assembled for delivery to points along the lake.' Ella Buerge at left.
Purchase Print