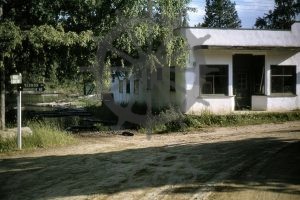 : 2015.028.160
:
:
: 1967--
: 1960s, Columbia River flood (1967), flood, Inonoaklin Valley Road, Lake Drive, Lower Arrow Lake, Millar's Hardware, and store
: Edgewood
:
1 digital image (4285 x 2889 pixels)
:
Millar's Hardware, Valley Road at Lake Drive, Edgewood, partially surrounded by water during 1967 flood on Lower Arrow Lake, Edgewood. The store would be demolished the following year during the clearing of the Edgewood townsite in advance of BC Hydro's construction of the High Arrow Dam. Note the directional signs at the intersection to the left of the store.
Purchase Print