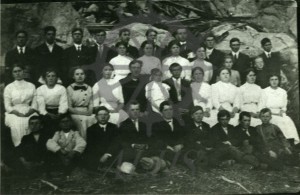 : 2015.025.1
:
:
: 1913--
: 1910s, Buerge; Reuben, Carstens, de Veer; Gerhard, de Veer; Margaret, Giesbrecht; Mary, Giesbrecht; Neil, Krebs; Mary, Krebs; Peter, Krebs; Willie, Loewen; Margaret, Mennonites, Penner; Jake, Penner; John, Penner; Peter, Reimer: Isaac, Reimer; Elizabeth (Krebs), Reimer; Elizabeth (younger), Reimer; Helena, Reimer; Henry, Reimer; Margaret, Reimer; Susie, Robbins; Lena (Krebs), Toews; Anna, Toews; Cornelius, Toews; Peter, Vogt; Peter, Wiebe Mountain, Wiebe; Agnes, Wiebe; Frank P., Wiebe; Lizzie, Wiebe; Martha, Wiebe; Neil, and Wiebe; William P.
:
1 digital image (3597 x 2342 pixels)
:
Members of Mennonite colony at Whatshan Lake pose together at Wiebe Mountain, 1913. Image was found in the personal collection of Daniel de Veer of Salmon Arm after he passed away. TOP (l-r): Frank P. Wiebe, Peter Krebs, Jake Penner, Henry Reimer, Isaac Reimer, Peter Toews, Neil Giesbrecht, William P. Wiebe. 2ND TOP (l-r): Anna Toews, Lizzie Wiebe, ?, Mary Giesbrecht, Margaret de Veer, Mary Krebs. 2ND BOT (l-r): Elizabeth Krebs Reimer, Helena Reimer, Margaret Loewen, Elizabeth Reimer, John Penner, Lena Krebs Robbins, Neil Wiebe, Martha Wiebe, Margaret Reimer, Susie Reimer, Agnes Wiebe. BOT (l-r): ?, ?, Peter Vogt, Willie Krebs, ?, Gerhard de Veer, Cornelius Toews, Peter Penner, Reuben Buerge.
Purchase Print