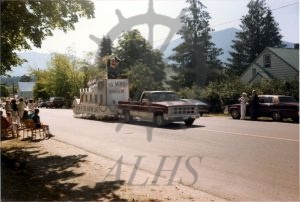 : 2015.003.3.87.3
:
:
: 1985-07-01
: 1980s, 8th Avenue NW, automobiles, Canada Day, Captain Minto, parade, Pazurik; Lisa, Queen of the Arrow Lakes, SS Minto, sternwheelers, and Surina; Karen (Halldorson)
: Nakusp
:
1 colour photograph (12.9 cm x 8.8 cm)
:
Queen of the Arrow Lakes float designed in style of SS Minto in front of Halcyon Home (8th Avenue NW), July 1st parade, Nakusp, 1985. Float won first prize in Novelty Decoration category. 'Captain Minto' rides on top. Incumbent queen Karen Halldorson waving at rear. Incumbent princess Lisa Pazurik at centre.
Purchase Print