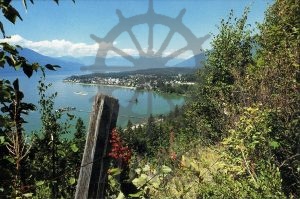 : 2015.003.1.2
:
:
: 1983--
: Milton Parent and Wayside Press
: 1980s, postcard, Rothwell Bay, and Upper Arrow Lake
:
1 colour postcard (15.3 cm x 10.2 cm)
:
Postcard showing bird's-eye view of Nakusp and Upper Arrow Lake as seen from edge of farm in south Glenbank, 1983. Inscription: 'This old rusting and rotting fence still remains. A mute testimony of the years gone by when the village of Nakusp, below, flourished with shipyards, sawmills, poleyards and great white sternwheelers. Now, the towering mountains sloping into the Arrow Reservoir, are notched with highways bringing tourists to this fabulous area of summer and winter recreations.' Photo by Bin (pen name of Milton Parent). Printed by Wayside Press Ltd., Vernon.
Purchase Print