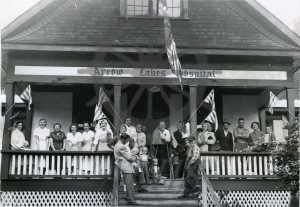 : 2014.036.97
: F42-8
:
: 1958-07-01
: Touchstones Nelson - Museum of Art and History
: 1950s, Anton; Bea (Steenhoff), Anton; Danny, Anton; Jackie, Anton; Michael, Anton; Tom, Arrow Lakes Hospital (1924-1974), Berard; Dan, Berard; Isabelle, Berard; Vivian (Reyden), hospital, Reyden; Corey, Shaw; Margaret (Olson), and Shaw; Neil
: Nakusp
:
1 b/w photograph, 1 b/w negative (35 mm)
:
Large group gathered on porch of Arrow Lakes Hospital (715 Broadway Street, Nakusp) for July 1st celebration, 1 July 1958. Tom Anton on stairs holding baby Jackie Anton with wife Bea Anton directly above him. Their twin sons stand Michael Anton and Danny Anton immediately to Tom's right. Neil and Margaret Shaw at top of stairs. Mrs. Berard immediately to right of stairs followed by Dan Berard, Corey Reyden, and Vivian Reyden. Image by Willy Frick ('Picture Willy') and stamped 'Picture Willy, Hospital, Nakusp, B.C.'.
Purchase Print