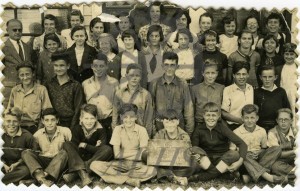 : 2014.034.1
:
:
: 1936-10-08
: 1930s, Bailey; Jack, Baird; Ernie, Bohle; Heather (Herridge; Gates), Burgoyne; Irene (Buerge), Butlin; Monica, Clarke; Bette (Davison), Coates; Georgina 'Dodie' (Munn), Easton; Eileen (Leary), Elliot; Bea (Johanson), Fellows; Hazel (Herridge; Ward), Green; Art, Hale; Helen (Rollins; Dickinson), Horrey; Edith 'Edie', Hoy; George, Johanson; Fifi, Johanson; Vera, Johnson; Bill, Kerr; Jack Jr., Kershaw; Cyril, Martin; George 'Fuzzy', Mayoh; Rob, McPhee; Ralph, Miller; Herb, Morton; Val, Nakusp Centennial Building, Nakusp School (1912-1957), Reilly; Lloyd Lionel, Rushton; Bill, school, Shelling; Alice, Smith; Harley, Steenhoff; Bob, Sutherland; Bob, and Sutherland; Nettie
: Nakusp
:
1 digital image (2198 x 1398)
:
Class portrait (ca. Grade 10) against side of Nakusp School, 8 October 1936. Photo comes from Helen Josephine Rollins-Hale's photo album. TOP(l-r): Olive Chadwick, Bea Johanson, Doris Surina, Eleanor Watson, Heather Herridge, Monica Butlin, Nettie Sutherland, Mary Rushton, Helen Rollins, Betty Davison. 2ND TOP: Fuzzy Martin (teacher), Irene Buerge, Vera Davies, Hazel Herridge, Vera Johanson, Alice Shelling, Edie Horrey, Eileen Leary, Dodie Munn, Fifi Johanson. 2ND BOT: Rob Mayoh, Harley Smith, Ralph McPhee, Lloyd Reilly, Cyril Kershaw, Herb Miller, Val Morton, Bob Sutherland. BOT: Bob Steenhoff, Jack Bailey, Art Green, Jack Kerr, Ernie Baird, George Hoy, Bill Rushton, Bill Johnson.
Purchase Print