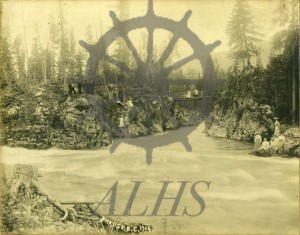 : 2014.029.3
: C20-14
:
: 1906-06-
: Edith Barrow and Malin Jordan
: 1900s, Abriel; Bessie, bridge, Canyon Bridge, Canyon Road, Jordan-Williams; Blanche, Kuskanax Creek, McDougald; Lyland Franklin 'Lyle', McDougald; Sarah Maud (Muirhead), Nakusp Canyon, Scott; Elizabeth, and Scott; Walter
: Nakusp
:
1 b/w photograph, 1 b/w negative (35 mm)
:
Eugene Tucker photo of view of Kuskanax Creek looking downstream toward original Canyon Bridge at Nakusp Canyon with people posing on and around bridge and canyon, June 1906. Blanche Jordan and children seen at centre of bridge. Walter Scott and Elizabeth Scott at top left. Bessie Abriel at bottom left in black dress. Lyle McDougald and Maud McDougald at right on rocks.
Purchase Print