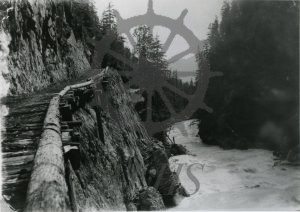 : 2014.026.523
:
:
: 1901--
: 1900s, bridge, Camborne Road/Fish River Road/Incomappleux Forest Service Road, Incomappleux Canyon, and Incomappleux River
: Camborne
:
1 b/w photograph (27.9 x 21.6 cm)
:
Mattie Gunterman photo of road leading to Camborne, 1901. Caption from Flapjacks and Photographs by Henri Robideau, p. 66 (Polestar, 1995): 'In the late summer or early autumn of 1901, Mattie took her camera up the newly completed Thomson's Landing-to-Camborne wagon road. This picture was taken at the Big Bluff, the same spot she photographed in 1900, but a year later the cliffs have been blasted out and a corduroy-decked bridgework installed.
Purchase Print