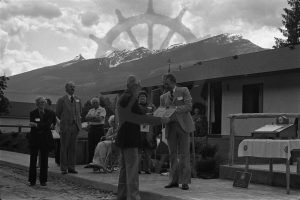 : 2014.018.917
: S1024-12
:
: 1981-06-16
: 1980s, 7th Avenue NW, Arrowtarian Rotary Villa, BC Housing Corporation, Canada Mortgage and Housing Corporation, Evans; Peggy, Fraitzl; Mike, Fressenden; G.G., Roberts; Dick (BCHC), Saddle Mountain, and Stanley; Arthur Brinsley Sheridan 'Art' Jr.
: Nakusp
:
1 b/w negative (35 mm)
:
G.G. Fressenden of Canada Mortgage and Housing Corporation presents plaque at opening of Phase III of Arrowtarian Rotary Villa, 210 7th Avenue NW, Nakusp, 16 June 1981. Art Stanley at far left. Dick Roberts of BC Housing Corporation at second left. Mike Fraitzl third from left. Tenant Peggy Evans in wheelchair at centre.
Purchase Print