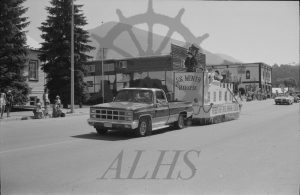 : 2014.018.832
: S1016B-37
:
: 1985-07-01
: 1980s, 409 Broadway Street W, Broadway Street, Canada Day, Captain Minto, Nakusp Auto Parts, Nakusp Courthouse, parade, Pazurik; Lisa, Queen of the Arrow Lakes, SS Minto, sternwheelers, and Surina; Karen (Halldorson)
: Nakusp
:
1 b/w negative (35 mm)
:
Queen of the Arrow Lakes float designed in style of SS Minto in front of Nakusp Courthouse (415 Broadway Street West), July 1st parade, Nakusp, 1985. Float won first prize in novelty decoration category. 'Captain Minto' rides on top with Queen of the Arrow Lakes Karen Halldorson and Princess Lisa Pazurik.
Purchase Print