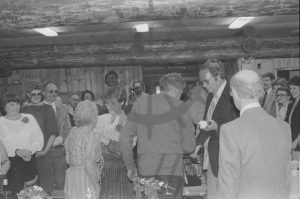 : 2014.018.758
: S1014B-18
:
: 1985-04-20
: 1980s, Abbey; Barb (Williams), Gardner; Bert, Gardner; Nola (Bjarnason), Gardner; Winnifred 'Winn', Lillies; Floyd, Lillies; Lois, Murphy; Harry, Murphy; Winnie (Jordan), Nakusp & District Chamber of Commerce, and Nakusp Senior Citizens Association Hall
: Nakusp
:
1 b/w negative (35 mm)
:
Past President Floyd Lillies (second from right) speaks to Harry Murphy (centre with back to camera) as Murphy receives life membership, Nakusp and District Chamber of Commerce banquet, Nakusp Senior Citizens' hall (300 8th Avenue NW), 20 April 1985. Harry's wife Winnie Murphy seen at left with back to camera being congratulated by Director Lois Lillies. Standing at far left are Barb Abbey, Nola Gardner, and Doug Gardner.
Purchase Print