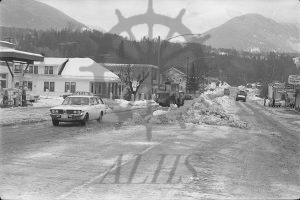 : 2014.018.4241
: S1352-17
:
: 1977-10- - 1978-03-
: 1970s, 215 Broadway Street W, 219 Broadway Street W, 301 Broadway Street W, 3rd Avenue NW, Bluebird Cafe, Broadway Street, garage, gas station, loader, Nakusp Shell Service/Nakusp Motors, restaurant, and snowbank
: Nakusp
:
1 b/w negative (35 mm)
:
Loader moving snow off street into piles in median, Broadway Street at 3rd Avenue looking east, Nakusp, winter 1977-78. Nakusp Shell Service at far left. Bluebird Cafe at centre behind loader. Buildings on right, R-L: Nakusp Color & Sound, the Rice Bowl (Chinese restaurant), Imperial Service (Esso service station). 'Fries & Frosties' sign in front of the Hut Drive-In Restaurant at top right of street.
Purchase Print